Cygnet Class
Teacher: Mrs Gabrielle Manzi
TAs/LSAs : Mrs Michelle Rose, Mrs Margaret Cornthwaite, Mrs Serena Patten and Miss Sophie Farmer
Welcome to Cygnet Class
Question: where can you…..?
discover, explore, imagine
build a pirate ship and sail across the Arctic ocean
hunt for fossils, buried treasure or both
escape the hot lava of an active volcano
dig, plant, grow and cook
travel to the moon in a homemade space ship
paint everyday, if you want to
dance freely, sing loudly
become a scientist or superhero, mathematician or engineer
…and, of course, learn to read and write your first words…….
Answer: in Cygnet class! – where children explore what it is like to be grown-up, and where grown-ups remember what it was like to be a child.
Summer Term 2022
Globe Trotters
This term's topic focus is geography, and we are going to be learning all about three famous rivers: our very own River Parrot, the River Thames and the River Nile. We will be learning about the animals and plants that have river habitats and we will be comparing life in a village with life in a city.
We are also looking forward to our Arts week – watch this space!
We are also developing Oracy skills through Philosophy for Children and learning how to discuss a topic with another person using sentence stems. We will learn to answer questions using a full sentence and to use or voices in different ways.
In Science we will be learning all about summer, including the weather and how to keep safe in the sun. We will also be learning about our own bodies and how to look after ourselves, including healthy eating and what happens when we exercise.
In English we will be using Talk for Writing to explore the well known story of 'The Three Little Pigs'. Year one will be learning about how to create characters using adjectives and powerful verbs, and how to sequence a story using five parts. Reception children will be having a go at telling and writing their own versions of the Three Little Pigs, using their phonics and letter formation.
In Maths year 1 will be consolidating their number sense – partitioning numbers to 20 and recording this using addition, subtraction and equals signs. We will also be learning and remembering all double and near double facts to ten and exploring odds and evens to 20.
Reception will be learning all about 2d and 3d shapes and repeating patterns, alongside developing fluency with number bonds to 10. We will be learning how to count objects accurately to 10 and beyond, reading numbers to 20 and learning about odds and evens to 10. 
Don't forget to send your child in with a named PE kit and wellington boots for wet welly walks. Children will also need a complete set of named spare clothes too, just in case of accidents!
If you are having to self -isolate here are a few things you can do to support your child's learning at home:
Maths
Watch Number blocks together and talk about the maths you see
https://www.bbc.co.uk/cbeebies/joinin/numberblocks-help-your-child-with-maths
Play board games using a dice- this helps your child to practise subitising (seeing a number of objects without having to count them) and turn taking.
Practise reading and writing numerals
Count together – up to 100 and beyond
Sing number songs like Five little Ducks (BBC School radio has lots of number rhymes)
Make different patterns using everyday objects
Talk about the shapes you see in the environment
Cook together – follow a recipe and weigh the ingredients
Teach them to tell the time – o'clock and half-past the hour
Say the days of the week and months of the year together
English
Sing lots of nursery rhymes (BBC School radio will help)
Read lots and lots of stories together
Collect a few objects and make up stories together using the objects
Practise writing the letters of the alphabet
Support your child to practise writing their name
Use post-it notes to label things in the house (like wall, chair, window, bedroom etc)
Make shopping lists together – either writing or drawing the things you need
Also – please call into school if you can, and collect a handful of reading books for your child to read whilst they are off school.
In Cygnet Class we love reading! Here we are sharing our favourite books with our friends.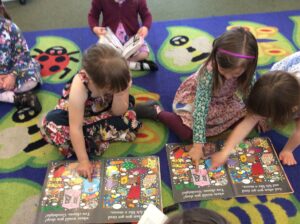 Cygnet Class is where the youngest children begin their time with us. The children in this class are Reception and  Year 1.  Mrs Manzi, the class teacher, is supported by many very experienced voluntary helpers. In Cygnet Class there is a mixture of play based learning and more formal teacher led learning. A particular favourite of the week is the Welly Walk, where the children go off site around the village and local area learning about their surroundings. Children in Cygnet class have daily phonics lessons. Many of the children will say that their favourite part of the week is creative dance, a favourite of Mrs Manzi's.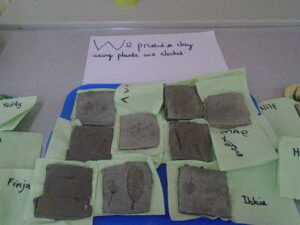 Here are some pictures of our work on Cave Art. We had great fun making our own paint and paint brushes and printing in clay with natural objects.
Useful Documents and information:
Here is the  foundation stage phonics workshop powerpoint:
Please find the powerpoint from Mrs Manzi's presentation to parents about the Early Years Foundation Stage attached for you to look at at your leisure.
Here is the link to the handwriting website which has lots of ideas to help you support the development of gross and fine motor skills in preparation for handwriting. https://teachhandwriting.co.uk/parents.html
Cygnet Class News
Welly Walk
Welly Walk is now on a Thursday, exploring our village.