Cygnet Class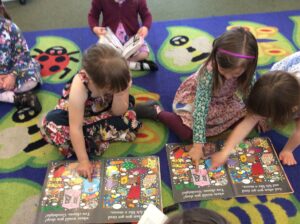 Teacher: Mrs Gabrielle Manzi
LSA / SEN: Mrs Michelle Rose , Mrs Margaret Cornthwaite and Miss Sophie Farmer
In Cygnet Class we love reading! Here we are sharing our favourite books with our friends.
Cygnet Class is where the youngest children begin their time with us. The children in this class are Reception and  Year 1.  Mrs Manzi, the class teacher, is supported by many very experienced voluntary helpers. In Cygnet Class there is a mixture of play based learning and more formal teacher led learning. A particular favourite of the week is the Welly Walk, where the children go off site around the village and local area learning about their surroundings. Children in Cygnet class have daily phonics lessons. Many of the children will say that their favourite part of the week is creative dance, a favourite of Mrs Manzi's.
Summer Term 2021 in Cygnet Class
This term we are reading 'Fatou Fetch the Water' by Neil Griffiths. It will be our Talk for Writing text and provide us with the beginning of our 'Globe Trotters' topic, where we will compare Long Sutton with a village in The Gambia.
In science we will be learning about the needs of living things, and how to identify different animals and plants in different habitats, including rivers, the savannah and coasts.
In PSED we will be learning how to keep safe indoors (safe around medicines, and other dangers at home), how to eat a rainbow and how to care for our planet. We will also be practising some basic first aid.
In music we will be learning about Gustav Holst and The Planets Suite. In art we will be learning about the artist Piet Mondrian.
We will continue to develop our reading skills – you can help by hearing your child read their school reading book everyday and by reading and talking about lots of different bedtime stories together. We would encourage you to keep the reading book until your child can read it fluently. Rereading the same book can help develop confidence and independence in reading and will also help build your child's stamina for reading longer books.
In maths – year 1 will be learning about fractions (half, quarter and thirds). We will also be learning about how to describe direction and position. We will consolidate our number facts to 10 and 20 and will solve addition and subtraction problems with numbers to 20 and multiples of 10 to 100. Reception children will be consolidating their knowledge of numbers to 20, counting to 100 and solving addition and subtraction problems with numbers to 10. We will also learn how to find half of a quantity, how to share in equal groups and how to recognise odd and even numbers.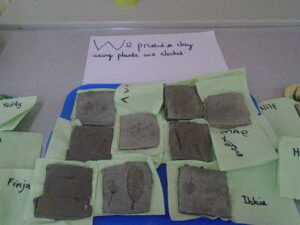 Here are some pictures of our work on Cave Art. We had great fun making our own paint and paint brushes and printing in clay with natural objects.
Useful Documents
Cygnet Class News
Welly Walk
Welly Walk is now on a Monday, exploring our village.