Kingfisher Class
Teachers:   Mrs Beth Casalis (Mon, Tues, Weds a.m) and
                       Mrs Liz Brading (Weds p.m, Thurs, Fri)
Teaching Assistants: Mrs Joanna Long (a.m only) and Mrs Amanda Epps (p.m only) Mrs Toni Sambell (Mon to Thurs am only)
---
Phonics workshop for Year 1: Powerpoint click here
---
Welcome to our Kingfisher class page. 
Covid 19: Home learning – If your child is self isolating please encourage them to complete the following activities:
English: For English home learning this term please follow the links below for each day. The unit of work is focused on writing descriptions within stories.
Day 1 – To listen and respond to a story.
Day 2 – To tell a story from memory.
Day 3 – To describe using your senses. 
Day 4 – To add -es for plural nouns.
Day 5 – To make inferences on what has been said or done. 
Day 6 – To box up for purpose. 
Day 7 – To explore how writers create a vivid description. 
Day 8 – To write a story using a vivid description.
Day 9  – To write a story using a vivid description.
Day 10 – To write a story using a vivid description.
Maths: 
Please click on the links and complete the Oak Academy lessons on shape.
Day 1 – To recognise, name and describe 3D shapes.
Day 2 – To describe and classify 3D shapes.
Day 3 – To identify 2D shapes.
Day 4 – To describe and classify 2D shapes.
Day 5 – To recognise and create repeating patterns. 
Day 6 – To recognise and describe repeating patterns. 
Day 7 – To use the language of position.
Day 8 – To use the language of position, movement and direction.
Day 9 – To use the language of position, movement and direction. 
Day 10 – To consolidate learning.
Design and Technology: Can you design and make something from your items in your recycling box?
Science: Choose a animal of your choice and create a fact-file about them. It could include information about the animals diet, appearance, habitat and some fun facts. You might also want to include a photo or picture of the animal too.
History: Great fire of London – watch the video below about The Great Fire London. Create a fact sheet with all the information you learnt about The Great Fire of London.
The Great Fire of London CBeebies
PE: If you can run around the garden and play lots of games outside. Here are a few useful links to PE activities to do inside
---
Spring Term 2021 in Kingfisher class.
Learning in Kingfisher Class
This term in Kingfisher class we will be continuing to offer a wide range of learning opportunities through play. Children can explore different areas of the classroom and follow their own interests to lead their own learning. Alongside this, we also have a range of challenges set up for the children to have a go at throughout the week.
Maths
Within the first half term in maths both Year 1 and Year 2 will be focussing on addition and subtraction. Year 1, will focus their learning on numbers within 20. They will be thinking about addition as a story using the terminology first, then and now. For example, first I have 3 apples, then I was given 7 more now I have 10 apples. Year 2 will be deepening their knowledge of addition and subtraction to add 2 digit numbers. They will be learning different strategies to help their draw on their knowledge of number bonds within 10 to help them add and subtract more fluently.  In the second half of the term, children will more on to start to explore multiplication and addition.
English
In Kingfisher class we have kicked off the spring term by starting our new talk for writing unit which will focus on developing the children's descriptive writing skills. We are using the story of Jack and the Beanstalk as our model text. Children will be taught a range of skills to help them create a clear picture in the reader's head when writing. Later in the unit children will have the opportunity to innovate the story and write their own version. Later in the term we will be looking at poetry and also persuasive writing.
Art & DT
Within Art & DT this term children will begin by exploring the artist Gustav Klimt and creating their own pieces of artwork inspired by him using collage. Throughout the term Kingfisher class will also be learning about different weaving and sewing techniques. Children will be working towards sewing their own piece of bunting leading up to Easter.
Science
Our science this term will focus on learning about animals including humans. Children will be learning how to use a range of scientific skills to find out about and describe the basic needs of animals, including humans, for survival (water, food, and air).  They will also describe the importance for humans to exercise, eating the right amounts of different types of food, and hygiene. Alongside this we will continue to observe the different changes in seasons throughout the year and develop their scientific questioning throughout the continuous provision in the classroom.
Computing
In computing children will be learning about online safety. We will also be exploring creating a range of media across the curriculum using the school laptops and i-pads.
PE
Children will continue to have two PE lessons a week. Children will be developing their hockey skills with Mrs Rose and looking at a range of multi-skills games and dance with Mrs Casalis.
Topic
This term children will be focusing on History in their topic. We started our unit by exploring 'What is History?' (a question posed by one of the Kingfisher class members). Children will learn about The Great Fire of London developing their skills in chronological understanding and historical enquiry.
RE
In RE Kingfisher class will be learning about Judaism and exploring the question; 'What do Jewish people believe about the Torah?' In the second part of the term children will learn about Lent and Easter.
Homework
Please continue to read daily with your children at home and record this in the reading journal. Children are encouraged to keep the book for 3 nights to develop decoding, fluency and reading with an expressive voice. Year 2 will start up with spellings again shortly and we will also send home information on which phonemes Year 1's are working on so you can practise these at home.
---
Useful Documents  and Information
Speed words for Year 1: These will be sent out weekly for children to practise daily at home to build up a sight vocabulary when reading.
Spellings for Year 2: Please find the weekly spellings in your child's planner. Here is a link with strategies to help your child remember their spellings.
Strategies for Learning spellings at home. 
The Bare Necessities – these are a range of maths games you can play at home
---
Gallery
Have a look at all the children's amazing work! A very successful Arts week and a chance for children to look at each other's art work in the school hall.. It was such vibrant art gallery!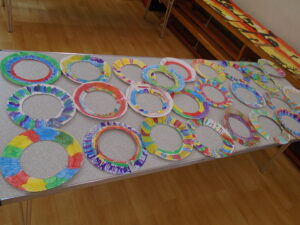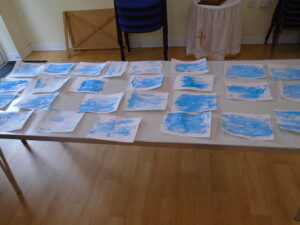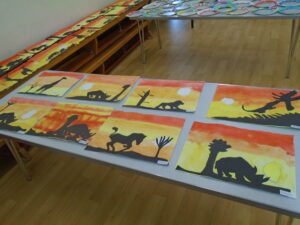 Kingfisher Class News