Kingfisher Class
Teachers:   Mrs Beth Casalis (Mon, Tues, Weds a.m) and
                       Mrs Liz Brading (Weds p.m, Thurs, Fri)
Teaching Assistants: Mrs Nikki Hazzard  (a.m only) and Mrs Amanda Epps (p.m only) Mrs Toni Sambell (Mon to Thurs am only)
We welcome Ms Jenna Pain in to Kingfisher class for her final term of her Teacher Training.
---
Phonics workshop for Year 1: Powerpoint click here
---
Welcome to our Kingfisher class page. 
Learning in Kingfisher Class
This term in Kingfisher class we will be continuing to offer a wide range of learning opportunities through play. Children can explore different areas of the classroom and follow their own interests to lead their own learning. Alongside this, we also have a range of challenges set up for the children to have a go at throughout the week.
Summer Newsletter Kingfisher class
Summer Term
Maths
This term the children will continue with addition, subtraction, multiplication and division, as well as learning different units of measurement such as time, money, length, mass and capacity. In Year 1 the children will become very confident using numbers up to 20 and familiar with numbers to 100 and in Year 2 they will be working with 2 digit numbers. They will be learning in very practical ways using a wide range of resources to help them to make sense of their maths learning.
English
This term in Kingfisher class we will be focusing on how we can develop a sense of character in our writing. We will be looking at using adjectives and expanded noun phases to create a picture in the readers head of our character. Our talk for writing will be based on the warning tale Kassim and the Hungry Dragon. Throughout the rest of the term we will be focussing non-fiction writing based around Dragons.
RE
Our RE topic this term is about Christianity with the theme – What do Christians believe about love? We will be focussing on stories such as The Good Samaritan and the hidden message of kindness to others.
Art & DT
The children will look at patterns and printing in Art, exploring a variety of textures and describing how they look and feel. The artist we will learning about is Gustav Klimt. Our Arts week is the week beginning the 23rd May.
Music
The children will continue to develop their singing voices as well as learn rhythmic patterns and sequences using untuned percussion instruments. The composer the children will learn about is Ravi Shankar.
Science
Our Science topic this term is all about plants and we will make the most of our wonderful outdoor space. The children will need to:
Identify and name a variety of common plants, including garden plants, wild plants and trees, and those classified as deciduous and evergreen
Identify and describe the basic structure of a variety of common plants including roots, stem/trunk, leaves and flowers.
Observe and describe how seeds and bulbs grow into mature plants
Find out and describe how plants need water, light and a suitable temperature to grow and stay healthy.
Year 1 Forest School
Every fortnight the children in Year 1 will have a session with Justine Goodwin our Forest School teacher, using the school grounds to support their learning.
Topic
This term children will be focusing on Geography in their topic time they will be focusing on the question ' What lives around the River Parrett?' They will then look in greater depth at geographical similarities and differences through studying small areas of the United Kingdom. Children will continue to develop their ability to locate the worlds seven continents and five oceans alongside this.
Computing
Kingfisher class will have the opportunity to use the Beebots this term and start to develop an understanding of algorithms. We will be looking at programming the Beebots to make a specific journey and we will start to write our own algorithms. The class will also have an opportunity to use the i-pads to create their own stop motion video.
PE
Children will continue to have two PE lessons a week one with Mrs Rose and one with Mrs Casalis. The first part of the term they will focus on striking and fielding activities alongside athletics. We hope to also include swimming in the curriculum as soon as the pool is open. The children have also had the opportunity to work with a dance specialist from Razzmatazz this term.
Homework
Please continue to read daily with your children at home and record this in the reading journal. Children are encouraged to keep the book for 3 nights to develop decoding, fluency and reading with an expressive voice. Year 2 will start up with spellings again shortly and the Year 1 children will have speed words to practise.
---
Useful Documents  and Information
Speed words for Year 1: These will be sent out weekly for children to practise daily at home to build up a sight vocabulary when reading.
Spellings for Year 2: Please find the weekly spellings in your child's planner. Here is a link with strategies to help your child remember their spellings.
Strategies for Learning spellings at home. 
The Bare Necessities – these are a range of maths games you can play at home
---
Gallery
Have a look at all the children's amazing work! A very successful Arts week and a chance for children to look at each other's art work in the school hall.. It was such vibrant art gallery!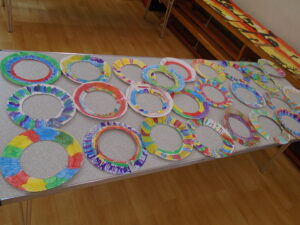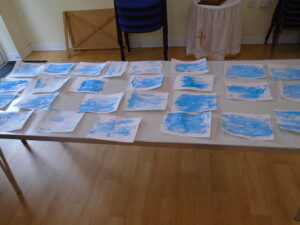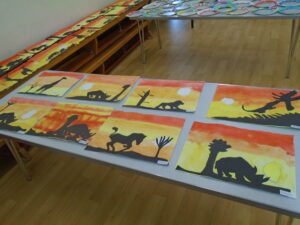 Kingfisher Class News