Christian Ethos & Values
We are an outstanding Church of England Voluntary Aided Primary School (see SIAMs report Nov 2016) with our whole school family at the heart of everything we do. We believe that love is central to all we do in school and this is encapsulated in our vision statement which is taken from one of the prayers we say in church:
'Learn to love and love to learn'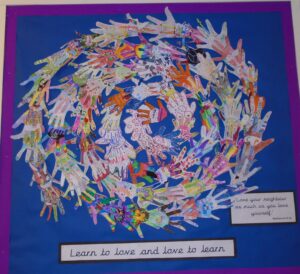 Our school is an integral part of our village and everyone within this community is valued and nurtured as part of our school family and God's family. Christian teaching and values are at the heart of all we do, to ensure that we develop well-motivated, independent, happy children who aspire to achieve their best in all they do, respecting and valuing themselves and others.
'Love thy neighbour as thyself' Matthew 22:39
We have chosen the following Christian values which underpin the ethos of our school…
Compassion, thankfulness, hope and resilience with love running through all these.
Each value is underpinned by a bible story and a hymn to help the children understand the value and interpret in their daily lives:
Compassion: The Good Samaritan – Luke 10: 25-37       (When I needed a neighbour)
Thankfulness: The Ten lepers – Luke 17: 11 – 19                (Thank you Lord for this new day)
Hope: The story of Noah's Ark – Genesis 7                         (Make me a channel of your peace)
Resilience: Daniel and the Lion's Den – Daniel 6              (Be bold, be strong)
Our School Prayer:
Oh Lord
bless or school;
that working together,
and playing together,
we may learn to serve you
and to love one another.
Amen
We focus on one Christian value per term, this is the focus of Worship but is also linked to class learning and discussion with children about behaviour and the world around them. Daily Worship has a focus each week either linked to the term's Christian value or important parts of the Christian calendar. As well as school and class Worship we are lucky enough to have members of the local church community to join us bi-weekly for our 'Open the Book' Worship, where Bible stories are retold and acted out in a thoughtful and engaging manner.
Our school promises were written with the whole school community focusing on what is important within our school. They are at the centre of our behaviour policy and run alongside our use of Restorative Justice.
Long Sutton C of E School Promises
Always try our best
Be polite and well mannered
To be kind and caring
Play together nicely and fairly
Treat everyone and everything with respect
To keep each other safe
All the children agree to keep these promises to help make our school a safe and happy place for everyone to learn in.
Weekly News